Unicorn Bark Recipe
I know you have all been seeing the Unicorn craze going around the internet and especially the one with the Starbucks Unicorn Latte and so with that being said I wanted to share a healthier treat that we like to call the Unicorn Bark Recipe and hope that you try make it with your kids, post a picture of it, and share on Facebook how to make it ( Sharing is caring right? )  You'll be using Shakeology as one of the ingredients and remember that the new Vegan Vanilla flavor just came out! This Unicorn bark recipe will include Vanilla Shakeology (which is AMAZING by the way and will make you feel like a freaking Unicorn.  The Unicorn Bark Recipe is pretty simple to make and it looks like it's packed with sugar, but this delicious rainbow treat is as healthy as can be!
I promise that this won't end up happening😂
Unicorn bark is usually made with sugar, more sugar, food coloring, and lots of sprinkles, so how did we make it colorful and still good for you? We used blueberries, strawberries, and mango to make three different colors of yogurt, then swirled them together in a flat pan for a rainbow effect. Then, we topped our unicorn bark recipe ad ingredients with wishes, dreams, and shredded coconut (and a sprinkling of glittery sprinkles because we couldn't help ourselves). So, go ahead, eat like a unicorn without regrets and then share this Unicorn bark recipe with your friends.
To make this unicorn bark recipe without a blender, simply mash each fruit in separate bowls. Add ¾ cup yogurt, 1 scoop Shakeology, and 1½ tsp. honey to each bowl and mix well.
Don't have Shakeology yet? Get all of the Shakeology flavors here.
Unicorn Bark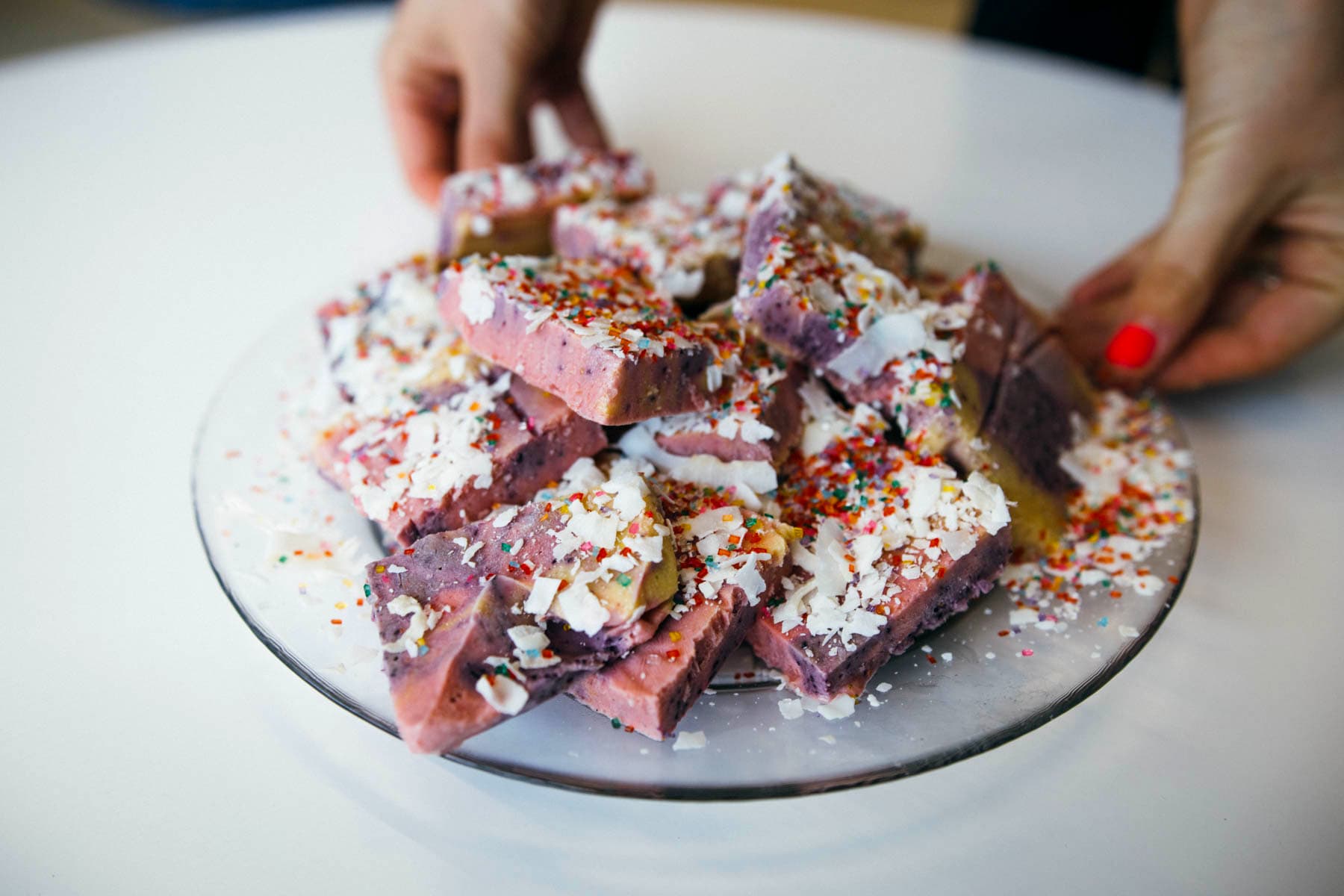 Your kids will love this Unicorn bark recipe with this rainbow unicorn bark made from Vanilla Shakeology, yogurt, and fruit!
(This recipe and instructions on how to make the Unicorn Bark Recipe was created by Beachbody and shared on the Team Beachbody blog.)
Ingredients
Parchment paper
2¼ cups reduced-fat (2%) plain yogurt, divided use
3 scoops Vanilla Shakeology, divided use
4½ tsp. raw honey, divided use
½ cup chopped medium strawberries
½ cup fresh blueberries
½ cup chopped mango (or pineapple)
¼ cup + 2 Tbsp. unsweetened shredded coconut
Instructions
Line 13 x 9-inch pan with parchment paper. Set aside.
Place ¾ cup yogurt, 1 scoop Shakeology, 1½ tsp. honey, and strawberries in blender; cover; blend until smooth. Place in a medium bowl. Set aside.
Place ¾ cup yogurt, 1 scoop Shakeology, 1½ tsp. honey, and blueberries in blender; cover; blend until smooth. Place in a medium bowl. Set aside.
Place remaining ¾ cup yogurt, remaining 1 scoop Shakeology, remaining 1½ tsp. honey, and mango in blender; cover; blend until smooth. Place in a medium bowl. Set aside.
Place large dollops of strawberry mixture randomly around prepared baking sheet. Repeat with blueberry and mango mixtures, making sure dollops are touching.
Gently cut through yogurt mixtures with a knife in a circular motion to create marbling.
Sprinkle top with coconut. Cover with plastic wrap
Freeze for 2 hours, or until firm.
Cut (or break) into bite-sized pieces; serve immediately, or freeze until ready to enjoy. 
Nutritional Information (per serving):
Calories: 197
Total Fat: 6
Saturated Fat: 4
Cholesterol: 7
Sodium: 130
Carbohydrates: 21
Fiber: 3
Sugars: 15
Protein: 17
P90X/P90X2 Portions
½ Protein
½ Dairy
1 Single Serving Snack
P90X3 Portions
1 Protein
½ Carb
1 Fat
Body Beast Portions
½ Fruit
1 Protein
1 Fat
½ Protein Liquid
Portion Fix Containers
½ Purple
½ Red
½ Orange
Not familiar with Portion Fix? Find out how Portion Fix can make losing weight simple.