52 BOOK CHALLENGE – 2014
Please SHARE this with others so that they can begin their personal growth path as well!
I have been tracking my 52 Book Challenge on Instagram @Scottiehobbs as well as over at Pinterest here http://www.pinterest.com/scottiehobbs/52-book-challenge/ .  Many people are looking for the keys to success in building a Team Beachbody business and looking for somebody to give them that one magic tip that is going to change everything for them.  The thing I want to share with you today that will completely change your life is my 52 book challenge list.  When you can fuel your mind with positivity every single day and increase your knowledge in all areas you will begin to believe in yourself and attract amazing people into your life.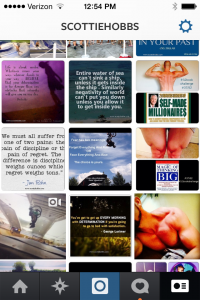 25 Ways to Win With People  —  John C. Maxwell
The Purpose Driven Life  —  Rick Warren
No Excuses  —  Brian Tracy
EntreLeadership  —  Dave Ramsey
Developing the Leader Within You  —  John C. Maxwell
The Magic of Thinking Big  —  David J. Schwartz
The Success Journey  —  John C. Maxwell
Jab, Jab, Jab, Right Hook  —  Gary Vaynerchuk
Today Matters  —  John C. Maxwell
The Big Moo  —  Seth Godin
The Art of Public Speaking  —  Dale Carnegie
How to Succeed with People  —  Stephen R. Covey
God's Power to Change Your Life  —  Rick Warren
Goals  —  Zig Ziglar
Who Moved My Cheese  —  Spencer Johnson, M.D.
The Miracle of Self Discipline  —  Brian Tracy
Greater  —  Steven Furtick
Keys to Success  —  Napoleon Hill
Grooming the Next Generation for Success  —  Dani Johnson
The Winning Attitude  —  John C. Maxwell
Go Pro  —  Eric Worre
Becoming a Person of Influence  —  John C. Maxwell
Running with the Giants  —  John C.  Maxwell
The Success Principle  —  Jack Canfield
Strong Daughters  —  Meg Meeker, M.D.
The Principles of Self-Mastery  —  Napoleon Hill
Permission Marketing  —  Seth  Godin
The 5 Love Languages  —  Gary Chapman
Break Out!  —  Joel  Osteen
The Alchemist  —  Paulo Coehlo
Conquering an Enemy Called Average  —  John Mason
21 Indispensible Qualities of a Leader  —  John C. Maxwell
The 21 Most Powerful Minutes in a Leader's Day  —  John C. Maxwell
Principle-Centered Leadership  —  Stephen R. Covey
The Happiness Advantage  — Shawn Achor
How to Make People Like You in 90 Seconds or Less  —  Nicholas Boothman
21 Success Secrets of Self-Made Millionaires  — Brian Tracy
Overcoming Rejection Will Make You Rich — Larry DiAngi
Go for No  —  Richard Fenton & Andrea Waltz
How to Master Your Time —  Brian Tracy
The Science of Being Great  —  Wallace Wattles
The Science of Getting Rich  —  Wallace Wattles
Iron Will  —  Orison Swett Marden
Tribal Leadership  —  Dave Logan, John King, Halee Fischer-Wright
How to Win Friends and Influence People  —  Dale Carnegie
God's Answers to Life's Difficult Questions  —  Rick Warren
Total Money Makeover:  A Proven Plan for Financial Fitness  —  Dave Ramsey
How to Become Rich  —  Donald Trump
The Investment Answer  —  Daniel C. Goldie
Think, Act & Invest Like Warren Buffett  —  Larry E Swedroe
Good to Great  —   Jim Collins
The 1 Book:  How Many People Does It Take to Make a Difference  —  Dan Zadra & Kobi Yamada
The 5 Book:  Where Will You Be 5 Years from Today  — Dan Zadra & Kobi Yamada
The 7 Book:  How Many Days of the Week Can Be Extraordinary  — Dan Zadra & Kobi Yamada
You Can You Will  —  Joel Osteen
MotivationManifesto —  Brenden Burchard