Possible for you
I want you to take the time to read this post and put it into perspective with your life and what your goals are or even to expand what is possible for YOU.
Brigitte and I are both from the small town of Idaho Falls.
One thing about Brigitte is that she made a REAL decision and used obstacles in a way that empowered her to learn and grow. She always moved forward, taught others to do the same, and shared openly about her life❤️
She worked HARD. Sometimes getting up at 1:00 in the morning on Mondays to work on her dream.
The first few hundred hours produced something like a hundred dollars. Might not seem worth it if you don't understand the compound effect.
For me hours of sacrifices, no sleep, tears, rejection, loss of social acceptance from some friends, and HOURS of study and work for $10,800 in an entire YEAR. That is what I made my first year with ALL THAT WORK. It equaled out to what seemed $3 an hour. But if you do the math of the compound effect on each year worked consistently over time, it is nearly the same as Brigitte's here.

$1,900,000/ 4 years = $475,000 a year.
That's nearly $40,000 a month every month of her entire career.
But in the moment it looked like very little. You see that's what happens when the root system is growing and you continue watering the seeds faithfully and with a vision of life and hope that they will sprout in the beautiful garden you can envision.
Brigitte always focused on growing herself and contributing to others. That's what it takes. Everyday.
What would happen if you put 4 years of 110% effort into building yourself, your skills and relationships with others, without comparing yourself to others, without letting fears and limiting beliefs hold you back working as hard on your legacy as most of you have worked through your college years?
Take a look at how Brigitte relates her journey to a 4 year college degree which is what I share with every new coach in our new coach webinar. Happy to see you "graduate" today on your 4 year anniversary!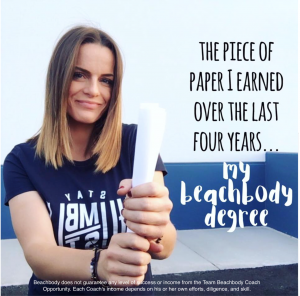 "Today I earned my 4 year Beachbody degree.
⠀⠀⠀⠀
Okay, there's really no such thing. BUT, that's how I feel today. Because…… Four years ago, today, I signed up as a Beachbody coach.
⠀⠀⠀⠀
As a new coach I remember hearing a call where someone compared building this business to earning a college degree. People invest {at least} 4 years to earn a college degree. They spend hours and hours studying late nights, making sacrifices, adopting a "whatever-it-takes" mentality to earn that degree.
⠀⠀⠀⠀
And they don't even get paid for all that hard work at college. IN FACT, most people accrue debt at college, spending a LOT of money for that piece of paper. A piece of paper that gives them the opportunity to THEN start making money.
⠀⠀⠀⠀
What if people approached Beachbody the same way? With a willingness to spend at LEAST four years learning about this, studying all you can, and giving this your all.
⠀⠀⠀⠀
I see people give up Beachbody cuz it's not a "rich quick" kind of deal, and yet they don't make money quick at college so what gives???
⠀⠀⠀⠀
When I heard the comparison between earning a degree and working Beachbody I felt a glimmer of HOPE, redemption, a second chance.
⠀⠀⠀⠀
Cuz I never earned my college degree.
⠀⠀⠀
At 21, during what SHOULD HAVE been my senior year of college, I was in a mental hospital. All my friends were making graduation plans and getting married and I was locked up in an institution. I was kicked out of BYU two times for getting bad grades. The second time they told me I couldn't come back for five years.
⠀⠀⠀⠀
But today —> I earned MY fancy piece of paper, my Beachbody degree. I can look back on the last four years and with a clear conscious know I have given this my ALL. I have done my BEST.
⠀⠀⠀⠀
And this is my scary share…. but as of today I have earned almost 1.9 million dollars between all our accounts. It blows my mind to think about that. Adding up those numbers made my stomach flip last night.
⠀⠀⠀⠀
I'm so grateful. God has been so so gracious and good and blessed me beyond what I can comprehend.
⠀⠀⠀⠀
I had so many doubts about myself and about the future starting this business. But I kept two scriptures on my white board …. "thru God all things are possible". -and- "Inasmuch as ye keep my commandments ye shall prosper."
⠀⠀⠀⠀
How those two scriptures have brought me PEACE and HOPE the last four years. And how true God has proven them to be.
⠀⠀⠀⠀
As I was praying this morning and writing in my journal I was in tears, just thanking God for this whole journey I've been on and what I've learned and how much I've changed, and yes- for the income as well.
⠀⠀⠀⠀
And I felt the spirit telling me that God has ALWAYS wanted to bless me. And he wants to bless others as well. But he can't bless us against our will!!! I blocked the blessings by my behavior for a long time. We can't do that guys!!! Our behavior and actions either allow the blessings to flow, or we block it. But I feel so strongly God wants to bless us ALL. He loves us.
⠀⠀⠀⠀
I am so so grateful for the business and the avenue it has been to see so many blessings. I am eternally in debt to God. And I am grateful for this second chance.
⠀⠀⠀⠀
Thank you to my mentor Scottie Hobbs for showing me the way. Thank you to my team for standing with me and continually moving forward. Thank you to my husband Jayson Linford, your support has been crucial and so appreciated. And thank you Heavenly Father. I am in awe of what you have done and continue to do in my life."
⠀⠀⠀⠀
———————————-
Beachbody does not guarantee any level of success or income from the Team Beachbody Coach Opportunity. Each Coach's income depends on his or her own efforts, diligence, and skill."